Yes my first Giveaway so stay tunned!!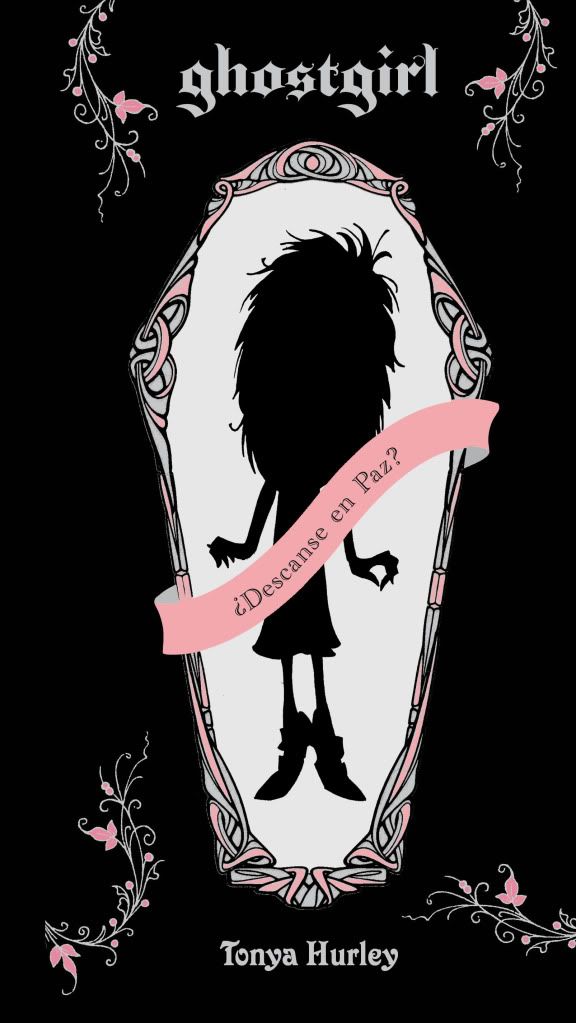 Ghostgirl
by Tonya Hurley

2008
336 p.
1. Charlotte, has always felt invisible to the world, determined to change things, she approach to her dream boy, and tragically that is the last thing she did, Charlotte is dead. After accepting her dead, Charlotte decide that this is not the end, and that she must accomplish her goals.
2.2008 Santillana Edition, is just beautiful, the entirely art of the book is just amaizing, the cover with the draw of a creepy Charlotte is so funny and also sad, I specially love the colors, haha, both my favorite purple and black, maybe that is why I bought the book, the pages are lovely, with floral designs, but in a creepy way, it does not look girly it look creepy girly, as I say all the design is funny and sad, creepy and nice. Also in every first page of the chapter we find a black page with a quote making a reference of what we are going to read on the chapter, it is funny and a good chapter prologue.
3.This book is a perfect choice for teens, specially girls, cause I do believe that in some moment of our lifes we all feel invisible, and that's why even it is a book for girls, every boy and maybe some adults must read it, it give some good advices.
4. The story is well written, all characters are specially well defined, you can make an excatly idea of how those characters are, even it makes you think of people you know. Even all the story goes around Charlotte expirience, all the other characters have enough lines so reader can get to met them well. The story does not have many storylines, just one, Charlotte passing out, so you don't get lost between lines, but that makes it a very simple book, no mysteries.
5.I really did not wanted to read it, but I bought it because I loved its design, but after the first chapter I was really intrigued, I wanted to know what will happen to Charlotte and the others. It didn't change my life or my mind, it is an enterteining book, Tonya Hurley has a very funny way to tell Charlotte's tragic destiny, so it is like a dark humor.
6.I think of this book just as a book to spend some time and have a little bit of fun. I would read the sequels if I pass by them, but definitly I am not desperate to read them.
7. I recommend it for teens, they will have fun reading it, and maybe they could identify with some of the characters, and I think it has pretty good advices for them. If you are not a teen you may read it as well and have a fun evening with it. I give it 3 Crazy Book Cat (s).

See ya on the next review!!
Ok for all of you who read all the review, and finally get down here, here it comes my very first giveaway, of course I'm giving away Tonya Hurley's "Ghostgirl" (Alfaguara 2008 Edition, latin edition). As it is in Spanish, this is a giveaway for latin speakers, though if you don't speak spanish, maybe you will want this book as a collection, and I must say this is a pretty book!!. Ok Giveaway is for Latin America, US, Canada and Spain (only) sorry to the other countries, but You may participate if you wish, but You should pay the shipping (once again sorry). To enter giveaway:
1. Following this blog +3 entries
2. Following me at Twitter +1 entrie (@RoseCBR)
3. Telling about this giveaway at Twitter or FB or your blog +2 entries
4.Commenting on this post +1 entrie
5.Resume all your entries on your comment +1 , don't forget to put the links to your Giveaway shutouts!
Winner will be selected by Random.Org
So Good Luck and let this craziness begin!!!
Giveaway ends on July the 30.